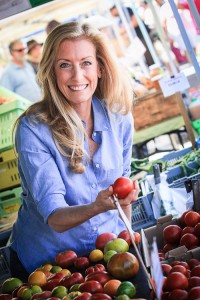 Our first session is one of discovery. We take a look at your goals. What are you looking to achieve as a result of working together? What do you want?
Next, we take an in-depth look at what you are eating.  It's amazing when you really get serious and write down everything you eat– every lick, every taste, and every bite. Then we discover what your culinary GPS is.  What do you like and dislike?  What flavors are you drawn to? Is it Mediterranean or Asia or Latin flavors?
Then we create a meal plan! A plan that is not only recipes, but preparation for when hunger hits. Empowering you to make good choices. You will add delicious go-to-foods to your diet repertoire.
Next, the clean up! We clean out your refrigerator and pantry–getting rid of any toxic foods that don't serve. After that we restock–filling your pantry and refrigerator with the good stuff.
I want to show you how much fun and how delicious eating the right foods can be. When we work together, we'll roll up our selves and learn through hands on meal preparation. This will boost your confidence in the kitchen.
I am here to coach you through your journey to better eating for a healthier life. I help translate your nutrition needs onto the plate. Whether it's digestive health or brain fog, wanting better energy or you want to up your game.  I'm here to help.
Change your food choices change your life!
WANT TO KNOW MORE?
HAVE A QUESTION ABOUT HOW COACHING COULD HELP YOU ACHIEVE YOUR DESIRED RESULT?
DROP ME A NOTE IN THE FORM BELOW AND LET'S CHAT.