HANDS ON COOKING CLASSES (PRIVATE OR GROUPS)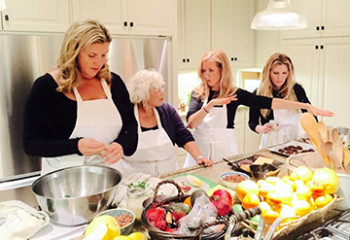 Let's DO THIS!
Together we create beautiful healthy food. Learn the tricks and tips that make it fun and actionable.
Whether it's a one–on–one or a group class, I demystify the secrets of cooking with mostly plant-based ingredients and show you step-by-step how to prepare delicious, seasonal and healthy meals.
For quick, everyday foods or entrees and desserts for special occasions– I will inspire you to cook nourishing meals for yourself and others. You don't have to be a chef to do it!My recipes are repeatable and you will have fun making them.
Drawing on 20 plus years of experience, I explain the health benefits of ingredients and share my techniques.. Menus and recipes are tailor made to suit your dietary needs. Oh – and there might be a little bit of wine (tasting) ;).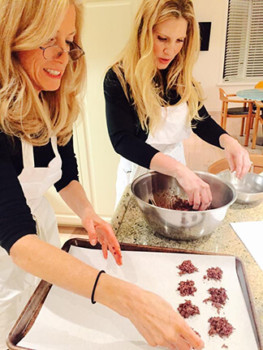 CLASSES AND TOPICS MAY INCLUDE:
Planning and prep. How to have snacks and refrigerator ready foods so that last minute eating is available.
Every night meals that are quick, easy and delicious
The Soup Tool Kit.  How to make any soup.
The hardest meal of the day.  Healthy Breakfast Guide
Dollops & Drizzles & Dressings (those things that add magic to any meal)
A survival guide to holiday cooking.  How not to gain 10lbs in 1 meal.
Indulge on deserts that nourish the body without spiking blood sugar levels
How to do a beautiful healthy dinner party without stress. Learn culinary choreography. Getting it all prepared and served on time.
WANT TO KNOW MORE?
HAVE A QUESTION ABOUT A CLASS?
DROP ME A NOTE IN THE FORM BELOW AND LET'S CHAT.