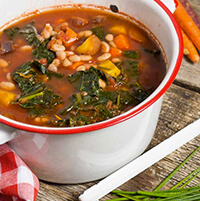 Make this hearty roasted vegetable and kale soup ahead for a quick, nutritious meal when you need it. By David Kennedy
From "Eat Your Greens"
April 2015
Total Hands-On Time: 1 hr 30 min
Preparation Time: 20 min
Cook Time: 1 hr 10 minYield: 6 servings
Roasted vegetables, kale, and beans make this soup rich, filling and delicious.

Photo by Fotolia/boyrcr420
The industrialized food system is failing us, and we must find ways to take responsibility for our own health and food security. Eat Your Greens(New Society Publishers, 2014) by David Kennedy provides complete instructions for incorporating leaf crops into any kitchen garden, from growing and improving garden soil with cover crops to making delicious, nutrient-rich foods from them. The following Roasted Vegetable and Kale Soup Recipe is from chapter 14, "Recipes."
You can purchase this book from the Grit store: Eat Your Greens.
If you're pressed for time, you can make this roasted vegetable and kale soup a day ahead.
Ingredients:
• 4 cups of root vegetables (such as turnips, sweet potatoes, carrots, white potatoes, rutabaga, and beets). Use any combination that equals 4 cups.
• 2 large tomatoes
• 1 large onion
• 1–2 Tbsp olive oil
• salt and pepper
• 6 garlic cloves
• 6–7 cups vegetable broth
• 4 cups kale, washed, stemmed, and chopped coarsely
• 1 Tbsp fresh thyme
• 1 bay leaf
• 1 can (15 oz) great white northern beans, drained
Instructions:
1. Preheat oven to 400 degrees.
2. Wash and cut all root vegetables into small bite-sized pieces.
3. Drizzle a baking sheet with olive oil and place vegetables on top. Drizzle more olive oil on top of vegetables and sprinkle with salt and pepper.
4. Wash and cut tomatoes into quarters. Peel onion and cut into 6 wedges.
5. Take a second baking sheet, drizzle with oil, and put tomatoes and onions on it, drizzling more oil on top. Sprinkle with salt and pepper.
6. Place both baking sheets in the oven. Bake until the root vegetables are tender, about 40 minutes. Stir occasionally.
7. When done, peel garlic and place in a food processor with the onions and tomatoes.
8. Add 1/2 cup of vegetable broth and puree until smooth.
9. Transfer into a large pot and add remaining vegetable broth, the kale, thyme, and bay leaf.
10. Bring to a boil then simmer until the kale is cooked, about 20 minutes.
11. Add the roasted root vegetables and the beans, and simmer for a few minutes to meld flavors. If needed, add more vegetable broth.
12. Adjust seasonings and serve.
More Recipes from Eat Your Greens:
• Easy Kale Chips Recipe
• Kale Smoothie Recipe
---
Reprinted with permission from Eat Your Greens: The Surprising Power of Home Grown Leaf Crops by David Kennedy and published by New Society Publishers, 2014. Buy this book from our store: Eat Your Greens.